Charge at home, at work or wherever you want with the Ohme Smart Cable. You don't need to install anything: everything works with an intuitive pairing process. Plug in and charge your vehicle wherever you are. The Smart Cable is a simple way to combine electromobility and charging reimbursement at home and on the road.
Connect the Ohme smart cable to a standard 240V socket (using the adapter or not), Plug in your car and you're done!

The Smart Cable transmits energy consumption wirelessly and with a single click you set up your periodic expense report. It sends its charging data to the LMS platform and via Bluetooth to the smartphone.
This Smart Cable complies with all applicable IEC and EN standards and requirements of national legislation as well as European and international regulations.
Discover all its benefits

Simple, flexible and smart
This Smart Cable requires no installation. Just plug it in and recharge! It is also connected to the LMS platform, which allows all costs to be tracked, among other things.

Charging Speeds
With this Smart Cable, you quickly charge your electric car. With the 'fast charging' option, you can charge up to 40 km/h. If you charge your EV at night, you will always have peace of mind in the morning that you have enough battery to hit the road.

At home or on the go
The Nexxtender Smart Cable is an ideal solution for charging your EV at home. But due to its versatility, it's also very easy to use it on the go without installation. The charging status is also clearly indicated by several LED-lights.

Smart functions
This Smart Cable is always connected to our Online Platform and is fully functional all over Europe. Once you've completed your registration, it's extremely straightforward to follow up on your consumption via the smartphone App. This allows you to keep tabs on your charging activity, the GPS-localisation and you can even view and manage the cost of consumption.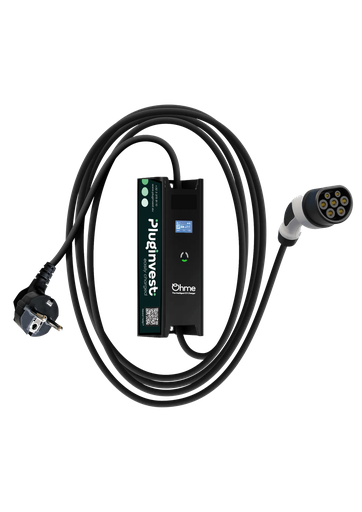 A Smart, mobile charging cable at home or on the go.

Our Smart Cable is a handy and straightforward charging solution that doesn't require any installation at all. The principle of Plug & Play means you can charge anywhere at any time, given there's a socket nearby. The Smart functions make it that the management of this charge cable become child's play.
Technical specifications

Charging specifications

Voltage : 220-250 V
Frequency : 50/60 Hz
Output power: 3-pin, Schuko, Commando, Type 2
Operational temperature: -25° C tot 45° C
Storage temperature: -40° C tot 85° C
Cable length: 5 meter
Residual current function: Type A 30 mA
DC 6 mA
Overcurrent protection: Not set
Access protection: IP55+ partial immersion
---
Uw Dynamic Snippet wordt hier weergegeven ... Dit bericht wordt weergegeven omdat u niet zowel een filter als een sjabloon hebt opgegeven om te gebruiken.