This versatile column can be delivered with brackets to hold one, two, three or even four charging stations. It's possible to mount a lot of different brands of charging stations to this column. You may choose to add an optional spotlight or even a small rooftop on top of the column. Pluginvest offers you this stylish, but most of all, practical solution for mounting a charging station at home or multiple charging stations for your corporate parking lot. Moreover, this column is made of sturdy aluminium that's even salt water resistant. Suitable for all weather conditions!

The clean, elegant Scandinavian design is combined with its leading Norwegian quality. With the availability of many personalisations, this column is greatly versatile. Designed and produced on the West-Coast of Norway. Installed all over Belgium by Pluginvest.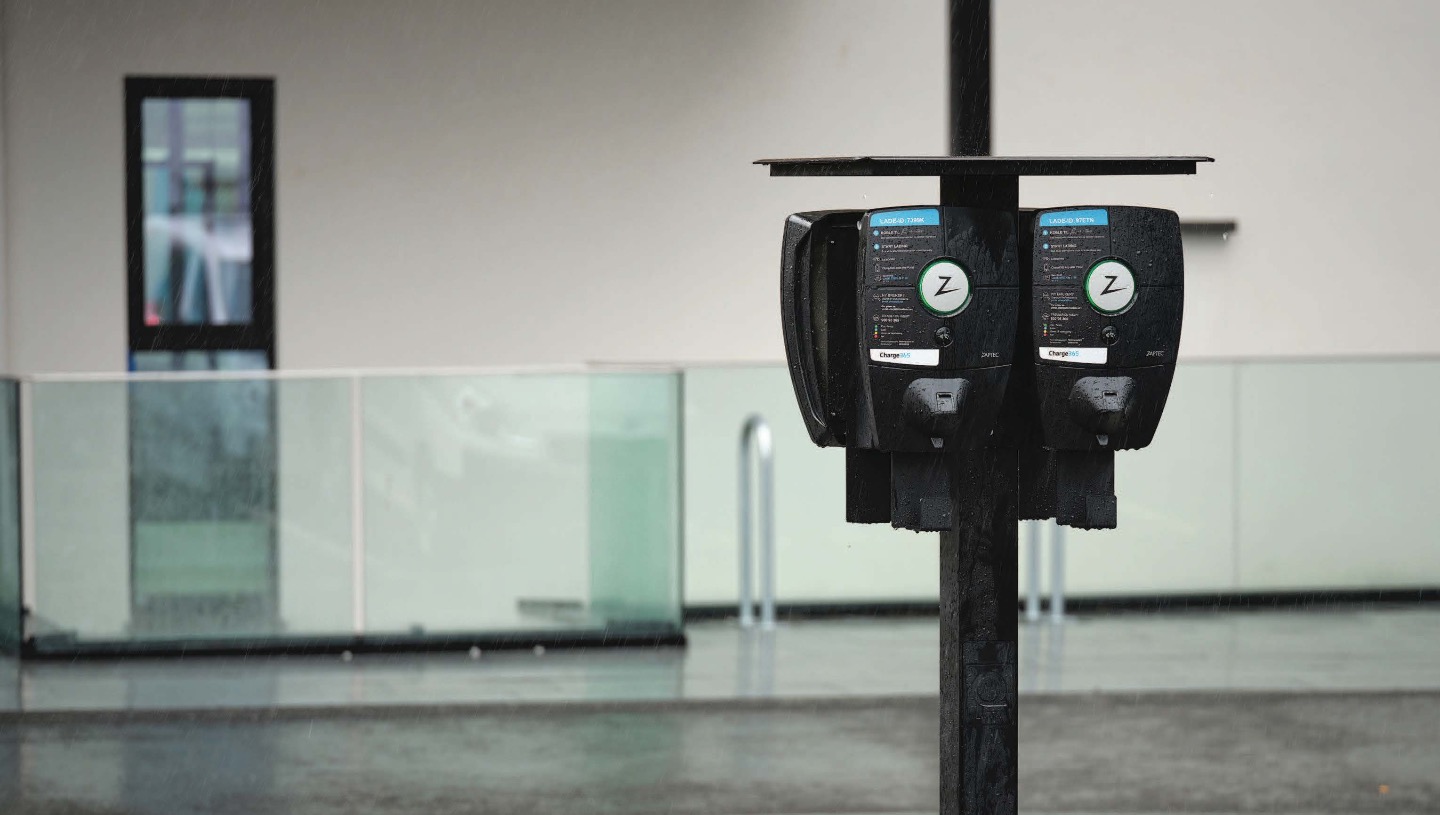 General
Material: Aluminium
Finish: Powder coating; ISO 12944, category C4

Color: RAL9005

Dimensions

Pole: 100x100x1496mm
Roof: 335x335x3mm
Light fixture: 180x315x3mm
Base: CC160mm, Ø25mm x 4 (M20)
Cable connection: 90x90mm

Safety
Safety class: Class 1, needs to be connected to the earthing
Protection class: IK10
Example of the base

Anchoring frame: CC160, M20x400 (No.: 3640400)
Dredging base: CC160/M20 (No.: 3640427)

Electricity
• Connection set 4x (with earthing)


• Electric code: 3640854
• Inspected coss set AL kabel: 10-50 mm2
• Inspected coss set CU kabel: 1,5-35 mm2
• Dismantling length: 17 mm
• Tightening torque: 10 Nm
• Max voltage: 450V
• Max current: 63A
Attention: Each mounting bracket needs to be attached to a Zaptec backplate in order to be able to mount the charging station to the column.

An elegant column for all your charging stations, at home or at work.

This versatile column can hold up to 4 charging stations at once. The optional roof and lighting makes this column suitable for all sorts of locations.
Uw Dynamic Snippet wordt hier weergegeven ... Dit bericht wordt weergegeven omdat u niet zowel een filter als een sjabloon hebt opgegeven om te gebruiken.