How can I be sure that this is a 3-phase connection?
You can check the type of grid connection in 3 ways:
Option A: based on the meter and fuse box. The number of connected phases (2, 3 or 4) in the meter cabinet and the width and type of the machine in the meter cabinet are examined. See also photos below: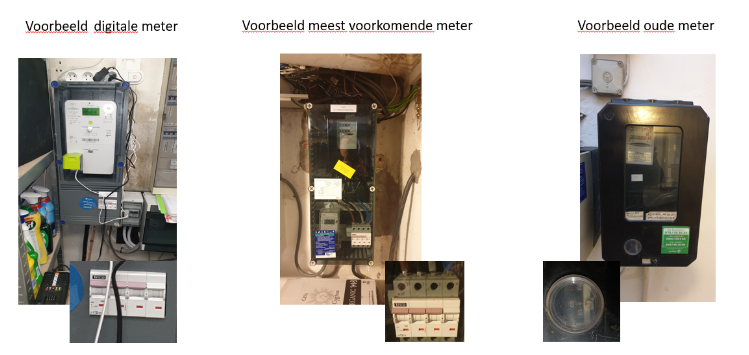 Option B: by checking your latest electrical inspection report. The type of grid connection is also always listed..
Option C: by contacting the system operator by telephone, e.g. address, EAN number or tellernnumber.
Fluvius (Flemish region): via 078 35 35 34. -> follow drop down menu for technical questions.
Should an inspection be carried out after installation of a charging station?

Yes, the electrical assessment according to the AREI (General Regulation on Electrical Installations) is mandatory in Belgium when installing a charging station. Pluginvest also takes care of this inspection for you, via an indepenDENT third party. We also provide the electrical diagram and the technical documentation. The price of this is already included in our offer.
What if the rest of the electrical installation in the house does not meet the standards?
Only the installation of the charging station shall be assessed as an extension. This means that not the entire installation will be re-checked and any infringements will not be a problem. The grounding and insulation resistance of the entire installation are checked by the inspector owv the safety. These must therefore be in order or be put in order by the customer. Pluginvest also makes a separate scheme of the extension so that it is not a problem that you do not have schedules of your entire installation.
Can a positive inspection be delivered for the installation of the charging station?
Yes, this can be done provided the above conditions are met.
What if that is not the case, is it impossible to set up a loading station?
Yes, it is a possibility
Do I have the right as a tenant/owner in a shared garage to place a charging station?
Yes, since the change in the law, you don't need explicit permission from the general assembly. However, you should report this and await any objections.
The right procedure must be followed, the VME can oppose it, but only on duly justified grounds.
An important provision is that those who make the adjustments also retain ownership of them. If defects or safety problems occur later, they can have financial consequences.